An ornamental wrought iron door can transform the style and look of not only your entryway, but your entire home. Scardino Doors creates custom ornamental wrought iron doors for the South's most beautiful homes and estates. Ornamental wrought iron doors are impressive, elegant, and intricate. However, it is the details and hardware that give your door the finishing touch and style that you envisioned.
Iron door hardware refers to the type of handle, lock, and knob you select for your door. The handle, lock, and knob or levers you choose need to complement the style of door you've chosen, provide adequate security, and should feel right to the touch when you open and close your door.
Below, you'll find some examples of common ornamental door hardware we recommend.
Ornamental Door Entry Handles
We typically recommend two models of ornamental entry handles, which include the Wiltshire Entry Handle and the Stonebriar Entry Handle from Weslock.                            
They are both made out of solid molten brass. Each entry handle is available with a Black or Oil Bronze finish. Both sets include a latch, lock, faceplate, and knob or lever. They both offer a 5-pin cylindrical lock for a high level of security, and each one has two hardened steel rollers to prevent sawing!
We love the Wiltshire Entry Handle because it offers a nice, elongated look for taller doors while the Stonebriar Entry Handle features a classic, clean-cut appearance.
Ornamental Sideplate Locks
The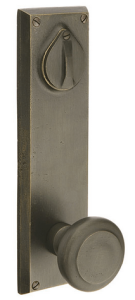 most common type of ornamental sideplate lock we recommend is the Sandcast Rectangular Keyed Style from Emtek, which measures 5-1/2" center-to-center.
The Sandcast Sideplate Lock offers a rustic look, and the set includes a knob or lever, a latch, and a strike plate. It's available in the following finishes:
Tumbled White Bronze
Flat Black Bronze Patina
Medium Bronze Patina
Ornamental Door Knobs & Levers
The Wiltshire and Stonebriar entry handles come with standard knobs, but the Sandcast sideplate lock offers a choice between several different knobs or levers.
Ornamental door knobs are more common, and most people prefer the feeling of using a door knob. Ornamental door levers are a great alternative, though, as they offer a clean, unique visual appearance.
The ornamental door lever we most often suggest is the Cimarron Door Lever also from Emtek. This lever can be paired with the Sandcast sideplate lock, and it comes in all the same finishes.
Request Your Consultation Today
Are you planning the design of your new home? Or are you simply ready to improve the way your home looks in a grand way? Contact Scardino Doors online or call (404) 999-5273 to request a design consultation for an ornamental wrought iron door.