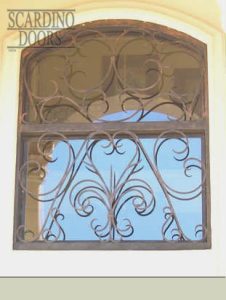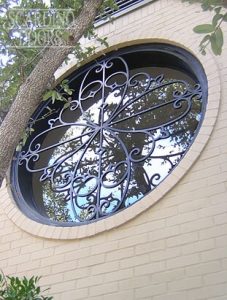 They say craftsmanship has gone out the window. Actually, with us, it's gone into the window.
Your windows should complement the style of your home. The professionals at Scardino Doors have the expertise and an extensive selection to provide you the perfect style. Then we manufacture and install your windows, flawlessly. If your home projects a stately, timeless personality, explore our Custom Wrought Iron collection. If sleek and modern are more fitting, our French Steel™ collection takes it to a higher level. Both collections are beautifully designed. They are also energy efficient, with environmentally conscious features engineered into all components.

Custom wrought iron windows make your home your castle.
Solid and timeless, our traditional wrought iron window grills provide a sense of grandeur, whether you're building a new home or replacing existing windows. The quality and workmanship of our iron window designs elevate your home, making it the most admired on your street.
Scardino Doors offers a range of industry-leading wrought iron window designs to choose from, including single- and double-paned construction that can open from the top, bottom or sides. The panes can swing either inward or outward, to bring in fresh air and make cleaning easier. And, of course, you can count on unsurpassed installation. Wrought iron windows increase curb appeal, provide greater security and, most important, add significant value to your property.
Custom French Steel™ windows offer eye-opening designs and views.
With French Steel windows, you add a whole new dimension to your home. Engineered for strength, the all-steel frames are thin, yet sturdy enough to hold large expanses of insulated glass. The clean, elegant sight lines provide unsurpassed views.
You can choose from various glass options: patterns such as rain, frosted or German antique; tempered, laminated for safety or sound suppression; and different levels of Low-e for UV filtration and clarity. All the steel frame components are permanently protected with a special hot zinc anti-rust coating. We offer six distinct finishes to ensure your windows complement your home and your taste, with choices that range from antique to modern, rustic to elegant. Bring the outdoors indoors with French Steel windows from Scardino Doors.
We'll make your experience as smooth as possible, from beginning through completion.
Installation and delivery are part of our process. You have peace of mind knowing that our company is certified by AAMA for professional installation, ensuring that your home will be well sealed and energy efficient.
Get Your Quote Today! Contact us for a free quote or call (404) 999-5273 to speak to one of our experienced wrought iron window designers. Together, we'll turn your windows into works of art.