Your front door is the heart of your home to visitors, family, and loved ones and when you have a historic home, you'll want a door that complement's your home's exterior. In many cases, you'll want to choose a door that's unique in character, design, or color, to match the distinctive character of your historic home. Not only will this enhance your home's curb appeal, but it will set the tone for your home's interior, too.
Fortunately, homeowners don't have to worry about having limited options when it comes to choosing a door style that complements a historic home. There are many variations of wrought iron and wood doors to consider.
Scardino Doors manufactures and installs custom ornamental wrought iron doors and wood doors that will complete your historic home. We are proud to serve homeowners in the South who are looking for striking options for their doors. Our team has the experience to help you find a door that you'll love. Let's take a look at some of the wrought iron and wood door options you have for your historic home.
Atlanta, Georgia, Wrought Iron & Wood Doors
Custom doors are a great option for those with historic homes because they can really match the home's style and enhance the curb appeal of your home.
Victorian historic homes, those built in the 1800s, are often large with incredible wood or stone exteriors. Their shapes are complicated and asymmetrical with different rooflines and decorative trim. Double entry doors were preferred in Victorian-era homes. Scardino Doors has a variety of options for those with Victorian homes. Our American Wrought Iron Doors collection features a variety of double wrought iron doors with beautiful windows to complement your Victorian home.
For historic houses, glass was often the focal point and etched or stained glass was a popular choice, as it gave the homeowners a bit more privacy.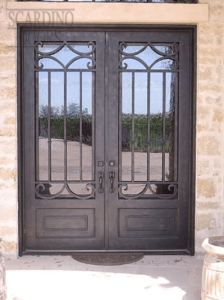 For historic homes in the early 1900s, Bungalows or Craftsman-style homes were quite popular. These homes focused on woodwork, and doors often had simple rectangular panels.
The rich beauty of an authentic wood door gives a classic appearance. For these early 1900's homes, we suggest a custom wood door from Scardino Doors, like this Tuscany Four Panel door. The solid panels provide privacy and security. Add sidelights to the sides or a transom above to bring in light and to enhance the style of your Craftsman home.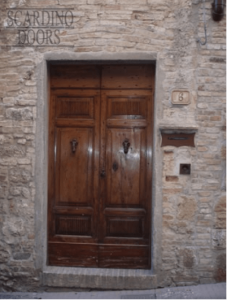 Custom Doors for Historic Homes by Scardino Doors
Whether you are looking for a new custom door for your historic home or would like to restore or repair your wrought iron doors, Scardino Doors can help. As the South's custom ornamental wrought iron door experts, we can assist you with all of your door needs, giving you an entryway you can be proud of.
Our team is proud to serve Northern Georgia, Chattanooga, TN, Savannah, GA, and Birmingham, AL with our service. To get inspiration for your historic home, take a look at some of our work in our before and after gallery.
If you're interested in enhancing your curb appeal with a custom wrought iron or wood Scardino Door, contact us today to get started. Give us a call at (404) 999-5273, or contact us online to have a member of our team provide you with an estimate. We look forward to helping you find the door of your dreams!