A Craftsman home won't be complete without a matching Craftsman-style front door. Scardino Doors in Atlanta, Georgia can custom design and build the perfect Craftsman front door to enhance your home's exterior.
Craftsman-style homes focus on the home's workmanship, creating a comfortable, relaxed environment. On the exterior, you may notice exposed rafters or beams, with large porches to allow families to relax outside. With a Craftsman-style home, you'll definitely want to choose a door that complements your architecture, to set the tone for the home's interior.
Scardino Doors specializes in custom doors that make a great first impression. Our team designs, manufactures, and installs wrought iron and wood doors for some of the most beautiful homes in the South. Read on to learn how our custom doors can enhance the curb appeal of your Craftsman home.
Types of Doors for Craftsman Houses
When considering an exterior door for your Craftsman home, you have a number of different options. Authentic Craftsman doors are crafted from any hardwood, however, mahogany, cherry and oak are popular choices. The doors can be stained to allow the grain of the wood to show through, or painted to complement the colors of your home. This simply depends on the homeowner's preferences.
Scardino Doors has a variety of custom wood doors that will welcome guests and be the focal point of your home, including our Tuscany Wooden Doors with and without Transom: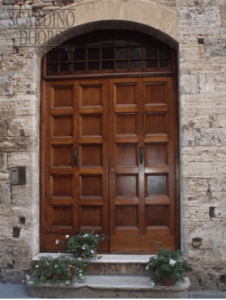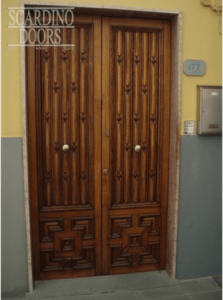 Many Craftsman homes have doors that feature glass panes in the upper third of the door separated from the lower flat wood panels by a thick piece of time or molding. The glass could be one large pane or several smaller panes separated by wood trim. Scardino Doors' Custom Wooden Doors with Wrought Iron is a great addition to a grand Craftsman style home: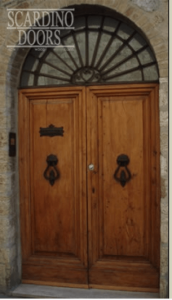 Contact Scardino Doors for Your Custom Craftsman-Style Door
When you choose Scardino Doors for your home's custom door, we'll work closely with you to complement your home's unique style and enhance the curb appeal of your home. We are the premier door company in the Southeast and are proud to service, North Georgia, Birmingham, AL, Savannah, GA, Chattanooga, TN, and Cashiers, NC.
You'll have the ability to choose everything from the type of door, handle hardware, and accessories, in order to create the Craftsman door you've always dreamed of. Plus, you'll receive a CAD drawing of every custom door and window, so you'll know exactly what you're getting ahead of time.
Contact us today for a free door quote by filling out our online form or call us at 404-999-5273 for more information.