Scardino Doors has custom-built, manufactured, and installed many styles of doors for brick homes across Georgia, Alabama, Tennessee, and North Carolina. Our team has a keen eye for style, knowing exactly what door type molds perfectly with your unique home.
These homes are a fantastic canvas for variously diverse styles of doors. Learn more about the design elements of brick homes and a few examples of doors that go beautifully.
Design Elements of Brick Homes
Styles of homes such as Georgian, Colonial Revival, and Federal are popular in the Southeast. These homes are elegant with a classic appeal to many homeowners. The organic texture of a brick house makes it visually interesting, allowing the front door to aesthetically contrast and stand out. They also last a lifetime (at least 100 years) which is due to them being durable, fire-resistant, and termite-proof. Brick is overall a beautiful choice for a home and opens up the many possibilities of door designs.
Door Elements
If you're unsure of what type of door to build for your brick home, our team of experts can best guide you with exactly what type, color, and finish your front door should be. A door is the first impression of your home that entices guests to go inside, so we understand how important it is to construct a beautiful and inviting door. Typically, brick homes blend well with these door elements:
Type/Style – Rustic doors that are either arched or rectangular go nicely. Let your creativity shine through with ornamental design work.
Color – For any style of brick house, avoid red tones as this will not allow your door to stand out. Instead, opt for grey, black, or blue for a pleasant contrast.
Wrought Iron Door Examples Made for Brick Homes
This modern, double-entry, wrought iron door pairs well with any brick home. The tall and narrow square shape with bars makes it a classic and well-designed front door. The faux finish texture perfectly contrasts with the lighter brick.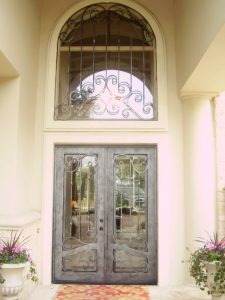 This English Windsor, wrought iron door has an elaborate design, causing any guest to stare in awe. The double entry door is rustic, yet elegant with ornamental scrollwork and a square top. The three windows at the top square it off nicely against the darker brick home.
Who needs double doors when you have this gorgeous design? This single entry wrought iron door also has ornamental scrollwork, but with floral patterns. The round shape has a radius arch, melding brilliantly against the light brick house. The crystal-clear glass makes the lights inside the house glow, giving guests a warm welcome upon entry.
Contact Scardino Doors for Your Brick Home in Atlanta
Contact Scardino Doors for a new wrought iron door for your Atlanta brick home. We are the top custom door installer and designer in the city! Our design process is simple and effective, causing customers to come back to us for their door needs. Our door designs are beautiful and one-of-a-kind, and we ensure that your home always makes a great first impression.
To request a quote, fill out our contact form online or give us a call at 404-999-5273.