One of the most overlooked ways to make a space your own is by customizing the interior doors. Venturing away from traditional hinged doors, this residential installation combines classic barn door designs with modern materials and aesthetics.
Custom-designed for this spacious Atlanta loft, the French steel and glass sliding barn doors Scardino Doors created balance the space's openness with its residents' need to partition.
Variety
These three designs provide variety to the type of door the homeowners chose. By varying the material and appearance of the doors, we have allowed for different levels of partitioning and visibly allocated different uses for each door.
The first door, metal sheets with rivets, is a more industrial-looking design. It provides a more solid and definite sense of separation and is great for doorways that require more security or privacy.
The second door, metal with wood paneling, provides more warmth, but the same level of privacy.
The third door is designed with a window pane concept and is great for making a space feel cozier without fully closing off the space.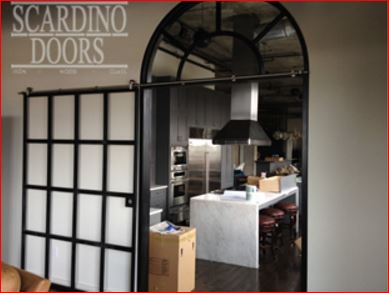 Fitting a Space
In a loft of this size, with such high ceilings, a traditional door just wouldn't work. The floor space required to swing a door—or doors—needed to fit this space would be excessive. The sliding/rolling hardware of this barn door allows for minimal disruption of the space and mirrors the loft's windows beautifully.
Contact Your Atlanta Custom Door Builders
Outfit your residential space with the custom doors you've been dreaming of. Contact Scardino Doors today to get your free quote. Reach out to us online or give us a call at 404-999-5273.