For your stucco home, consider installing a brand new, custom wrought iron door with Scardino Doors in Atlanta. You can expect our team to professionally build, manufacture, and install beautiful doors that are custom made to be uniquely yours. With stucco homes, you get durability, beauty, and the endless possibilities of door styles to choose from.
Check out a few examples of door designs that go stunningly with stucco homes and discover the beneficial design elements of these houses.
Stucco Home Design Elements
Stucco homes can range in styles such as New American or Spanish-style, but one thing remains true about stucco: the versatility is unmatched. With a smooth and sleek look, you have the freedom to go with any design of home you want including traditional or modern. The durable material can be painted any color the homeowner desires. Stucco can also go well with other materials such as wood and stone for an extra unique and stylish touch. The versatility doesn't stop there – hundreds of different wrought iron door designs can be chosen to blend perfectly with stucco architecture.
Stucco Home Styles & Doors
Choosing the right type of door for your stucco house is important for a consistent and stylish look – and our team at Scardino Doors will ensure that will happen. A few factors of your home can determine what door will go best
For Spanish and Mediterranean homes, double doors made of wood with arched windows will be perfect with dark and rich finishes as well as ornamental hardware. Cape Cod, a traditional home typically made with stucco, goes well with wood or fiberglass doors in a wood stain finish for great contrast. Always consult with our design experts to help you design the perfect door for your home.
Wrought Iron Doors Paired with Stucco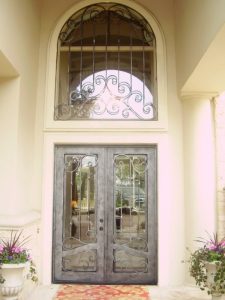 This gorgeous wrought iron, double door has a design that blends seamlessly with the stucco home. Its square frame contrasts with the top window, which features an arch with ornamental scrollwork. The door has a mix of bars and scrollwork that creates a textural difference in the design.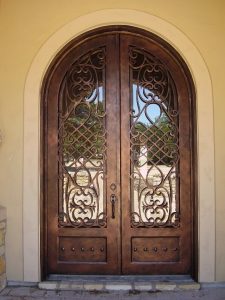 Decorative scrollwork is the star in this door design. The double wrought iron door is round with bottom panels that let the eye-popping design speak for itself. This oil rubbed bronze faux finish door would match many stucco homes for an unforgettable grand entrance. The overall sophisticated style of this door would make any visitor amazed, building up anticipation to what is inside the home.
This rustic door says chic and style. The square, double entry door has ornamental scrollwork along with floral patterns for a touch of beauty. The arched transom gives a special detail that contrasts with the overall square look of this front entry door. For your stucco house, consider picking a design like this one for complete elegance.
Install a Wrought Iron Door for Your Stucco House
Need a new wrought iron door to replace the tired one you currently have? Contact Scardino Doors in Atlanta for the most dependable team that can design, build, and install your stunning front door. We serve Southeastern states including Georgia, Alabama, Tennessee, and North Carolina. Request a quote by filling out our contact form online or calling 404-999-5273 for more information.