For the 30-year renovation of City Hall, Scardino Doors was entrusted with the task of creating and installing 82 interior doors. As the exclusive supplier of doors for City Hall, we did not take this task lightly. Ensuring the security and preserving the dignity of this important and historical building.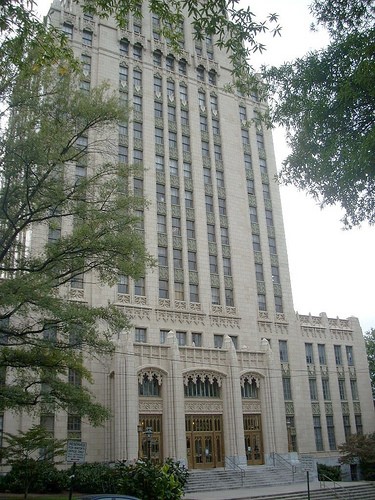 The 82 doors we installed were all custom wood doors, including the entrance to the city council chambers. This one, the door to the Mayor's office, was emblazoned with the City Seal. Featuring a Phoenix rising from the ashes — a reference to Sherman's burning of Atlanta in November 1864 and our refusal to remain in ruins.
This seal was finished in bronze without relief and was fixed to the custom door with construction adhesive and finishing nails. The two dates on either side of the seal are a reference to the two birth dates of Atlanta: 1847, when the city was incorporated, and 1865, when reconstruction began.
Design Your Own Commercial Doors
Let us provide the custom wood or wrought iron doors for your commercial building. To learn more about the high quality of our doors and the security measures we are capable of installing, take a look at our commercial doors and hardware page.
Contact Scardino Doors today at 404-999-5273, or fill out our online contact form.